26 May

Five Reasons Why Everyone Needs an Outdoor Room

Lately I have been thinking a lot about the difference between a landscape that you merely pass through and admire, and a garden that invites you to sit down, stay, and live outdoors, if only for the moment. There are several defining elements of such a garden, but I think one of the of the most significant and most often overlooked element is the outdoor room.
Garden Landscaping Ideas: Outdoor Rooms
Outdoor rooms differ from all the open spaces in a landscape. They are smaller, quieter spaces. They're similar to an indoor room – they feel enclosed, whether by trees and shrubs, or by trellises and walls. They are purposeful, intentional spaces that are designed to be very personal and inviting.
The outdoor room isn't a new concept. If you tour some of England's most famous gardens, for example, you will find that they're actually designed almost like magnificent palaces, and you quite literally wander from room to room, each self-contained, and each with its own unique structure and beauty.
None of us have palaces, of course, but that's the magic of the outdoor room. Anybody, with any kind of outdoor space can create one. And they should, for these reasons:
They provide a sense of privacy. Because it's at least partially enclosed, you can have the same sense of comfort and privacy outdoors as you would have indoors. This means you can head out to have a cup of coffee, read a novel, or catch up on emails – out in the fresh air and sunshine – while still in your bathrobe or pajamas. What could be better?
They get you out into nature. While immersing yourself in nature can be wonderful, it can also be hot, sticky, and uncomfortable at times. However, if you have a little space set aside – a space with a shady spot and a sunny spot; with comfortable chairs and pretty things to look at; and with easy accessibility from the house you will head outdoors more often, and stay outdoors longer.
They help you stay healthy. Our bodies use UV sunlight rays to create vitamin D. Some experts believe we aren't getting nearly as much vitamin D as our bodies need. Meanwhile, recent studies have correlated low vitamin D levels with an increased risk of dying from heart disease. They also suggest that healthy vitamin D levels may help prevent everything from cancer, to osteoporosis, to depression and insomnia.
Our bodies can only produce vitamin D from sunlight when it hits us at a specific angle, which happens around noon. Experts now recommend getting 10 to 15 minutes of noonday sun exposure (no sunscreen!) An outdoor room makes it easy, comfortable and convenient to shore up your vitamin levels, and help preserve your health.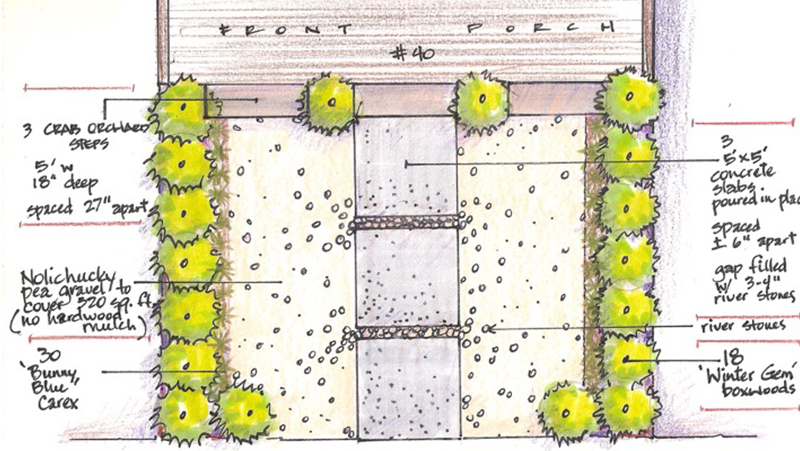 They help you stay sane. We are natural beings, and being in nature has a calming, almost meditative effect on us. Spending just a few quiet moments in a comfortable, private, serene outdoor space each day, listening to the birds and feeling the breeze, can do wonders to improve our mood and our overall emotional well-being.
They are easy to create. You don't have to have an immense yard to have an outdoor room. Your room doesn't have to be spacious, or fancy, or filled with pricey plants and patio furniture. It doesn't have to have "walls." You can make one on your balcony with a comfy rocking chair, a screen and some potted plants. You can create one in a wooded area, with a park bench and some shade-loving perennials. As long as your room feels enclosed, private, and welcoming, and invites you to linger a little longer outdoors, it will be perfect, I promise.
Five Reasons Why Everyone Needs an Outdoor Room
Marobeth Ruegg, Landscape Designer